See on Scoop.it – Do you know "Belgium"? ベルギーって言う国知ってますか?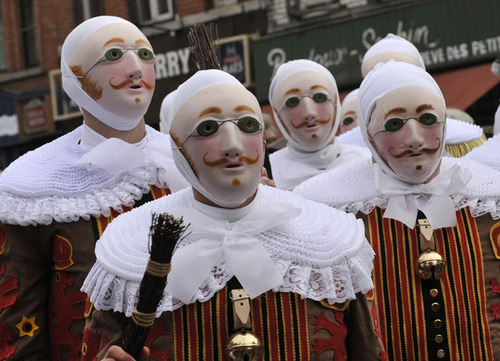 As Mardi Gras or Shrove Tuesday looms, forget tossing pancakes and head to one of the many towns celebrating the ancient festival. But beware old ladies wielding scissors and masked men lobbing oranges and onions.
On the eve of Lent, folklore societies are preparing to primp and preen their precious costumes before hitting the streets in a custom that dates back thousands of years. The ritual of carnival originated in pagan times when winter spirits were driven out to encourage the beginning of spring. In Belgium the custom has remained as authentic as ever, with membership of the various folklore groups a rare honour and a major commitment, both in time and money. Visitors and tourists now join locals in participating in the merrymaking, which continues until Easter.
Binche – February 10 to 12
Belgium's most illustrious carnival is in Binche (top), a medieval walled town in the heart of Hainaut's post-industrial wasteland. Dating from at least the 16th century, the party has had Unesco recognition since 2003. The pinnacle is Tuesday's parade of more than 900 Gilles, a select brotherhood of men dressed in distinctive black, yellow and red heralded costumes, painted wax masks and white hoods and capes that are later swapped for rare ostrich-plumed headgear when they pelt onlookers with oranges. This ceremony is but one of many gracing the three-day celebrations that follow a strict timetable. There is a firework finale on Monday night. Binche has a museum dedicated to its famous carnival, which is open all year round.
For a flavour of the Binche carnival and its historical background, read this article from WAB Magazine.
See on ptpibelgium.com