See on Scoop.it – Small Business Development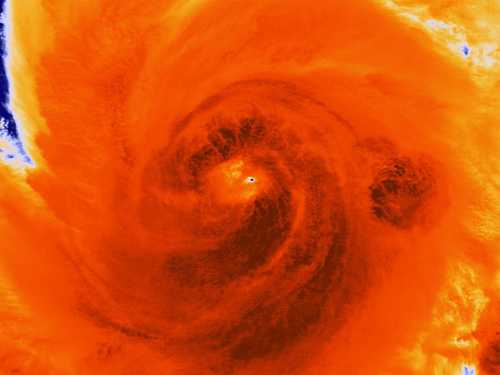 The worst storm in 100 years.;…
Hurricane Sandy could merge with a winter storm out of the west to become the worst Northeast storm in 100 years, described as a Frankenstorm.
National Weather Service meteorologist Paul Kocin tells Bloomberg: "What we're seeing in some of our models is a storm at an intensity that we have not seen in this part of the country in the past century … We're not trying to hype it, this is what we're seeing in some of our models. It may come in weaker."
New York, New Jersey, Connecticut, Pennsylvania, Maryland and Virginia have all declared states of emergency in advance of the megastorm.
Find out if you live in a New York City hurricane evacuation zone.
Where is Sandy now?
Sandy, which was upgraded from a tropical storm back to a Category 1 storm Saturday morning, is currently on a path toward the Mid-Atlantic, about 350 miles southeast of Charleston, South Carolina with sustained winds of about 75 mph.
Sandy clobbered the Bahamas as a Category 1 storm on Friday, bringing tropical storm conditions to much of Florida's east coast.
Projected path
There are several tracks that Hurricane Sandy could take over the next few days. But the likelihood is that it will blend with a winter storm, transforming it into a menace, and hit somewhere between North Carolina and southern New England on Monday night or Tuesday.
Forecasters are now 90 percent certain the storm with strike the U.S.
New York City preparations
'The MTA is planning for possible suspensions of buses and subways as Hurricane Sandy approaches, Mayor Bloomberg said in a press conference. This will happen if winds exceed 39 mph, the level at which the MTA deems it unsafe to operate transit services.
It's too early to determine Hurricane Sandy's definite track, but the mayor has made some recommendations in advance of the storm. This includes:
*** Finding out if you live in an evacuation zone. Particularly Zone A, or low-lying areas of New York City that are at high-risk of flooding
*** Stocking up on basic supplies and making a Go-Bag, which includes drinking water, First-Aid supplies, a flashlight and extra set of car and house keys
*** Staying out of the city's parks starting Sunday due to high winds
*** Sweeping driveways and catch basins for leaves and trash, which could make flooding worse
*** All construction outside of buildings will be halted Saturday at 5:00 P.M
*** If a MTA transport shutdown happens, it will begin at 7pm on Sunday night, with all transport completely stopped by 3am.
*** If winds reach 60 miles per hour, all New York City bridges will be shut down.
Impacts
Sandy is expected to bring heavy rains, strong winds, extreme flooding and snowfall in some parts of the country starting early Sunday, before the super storm makes landfall on Tuesday.
Chances of major flooding are also increased during a full moon when the tides are high.
Additionally, the storm is expected to hit major metropolitan areas, including Washington D.C., New York and Boston. If the storm follows its current track, experts predict it will rival last year's Hurricane Irene, resulting in more than $5 billion in damage.
Death toll
Sandy has so far left 39 dead in the Caribbean.
Information
For the latest Sandy forecasts, visit the National Weather Service or the National Hurricane Center.
New Yorkers can visit nyc.gov for the latest emergency information.
Click here for all of our Hurricane Sandy coverage.
Here's the latest map as of 11:00 a.m. EDT from the National Hurricane Center.

See on www.businessinsider.com